Preschool Program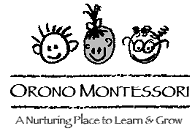 Orono Montessori School offers preschoolers a warm environment conducive to learning and growing using the Montessori approach to education.  In our preschool, the children are free to explore their environment and develop physically, socially, and academically in activities and learning centers which allow for success. The primary goal of our program is to help each child reach his/her full potential in all areas of life.
Our class rooms are filled with a rich variety of specially designed materials for the children to use in reading, writing, mathematics, science, geography practical life, and sensorial development. 
The preschoolers are given many more choices than a traditional environment could provide, as we place a high value on children's ability to make constructive choices, exercise self-control, and work independently of adults.
The Preschool Program serves children who are between the ages thirty-three months to six years. The program will serve preschoolers with a ratio of 1:10. The program will operate five days a week Monday through Friday from 7:00 a.m. to 6:00 p.m.

7:00
School Opens
7:00
–
8:30
Day care – Children use puzzles, read books and color, free play
8:30
–
9:00
Free Play/Puzzles/Blocks/Art Projects
9:00
–
9:30
Circle Time/Presentations
9:30
–
10:00
Bathroom/Wash Hands/Snack
10:00
–
10:45
Independent Work/Montessori Work/Montessori Presentations, Creative Movement/Music/Group time
10:45
–
11:30
Cleanup/Games
11:30
–
12:00
Bathroom/Wash Hands
12:00
–
1:00
Lunchtime
1:00
–
3:00
Rest/Nap/Story/Montessori Classroom/Development of Academic Areas/Socialization
3:00
–
3:30
Playground
3:30
–
6:00
Playground, free play, puzzles, blocks, art projects, group activities, and closing
Orono Montessori School
850 Wazata Boulevard West
Wayzata, MN 55391
(952) 404 0935