Infant Program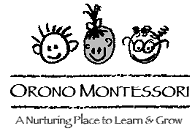 Orono Montessori School offers the young child a program with a wide variety of learning experiences utilizing the Montessori approach to education.  The materials are especially designed to help little muscles develop coordination, helping the child gain independence and self esteem.  Special attention is given to the development of expressive and comprehensive language skills.
The focus of the infant environment is on fostering basic trust in the child, and following the child's natural growth pattern. The prepared environment is characterized by order, simplicity and beauty which meet the needs of the child. The children learn concentration, order, sequence, and skills adapted to their culture with practical life.  Activities are designed to promote the development of social skills, emotional growth, and physical coordination as well as cognitive preparation for future intellectual and academic endeavors.
The infant program serves children who are between the ages six weeks through fifteen months.  It will serve infants in a small and intimate group by trained staff persons with a ratio of 1:4. The program will operate five days a week Monday through Friday from 7:00 a.m. to 6:00 p.m.

 
 
7:00
–
8:00
Arrival/Enrichment program
8:00
–
8:30
Diaper change/ Breakfast/ Snacks
8:30
–
10:00
Arrival/ Montessori work/presentation/observation
10:00
–
10:30
Snack
10:30
–
11:00
Music, Art, Diaper change
11:00
–
11:30
Playtime/Outdoor
11:30
–
12:15
Clean-up/Lunch
12:15
–
12:30
Clean-up
12:30
–
2:30
Nap/ Diaper change
2:30
–
2:45
Snack
2:45
–
3:20
Montessori work/Art projects/ Diaper change
3:20
–
3:30
Pick Up
3:30
–
4:30
Enrichment program/ Diaper change
4:30
–
5:00
Snack
5:00
–
5:45
Enrichment program/ Diaper change
5:45
–
6:00
Pick Up/Closing
Diapers will be changed in between designated times as needed. Hand washing will be done at each diaper changing and before each feeding time. All bottle feeding will be on individual child schedules as well as some rest/nap times.
Orono Montessori School
850 Wazata Boulevard West
Wayzata, MN 55391
(952) 404 0935