Toddler Care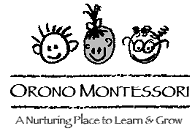 The toddler classroom at Orono Montessori offers children a program with a  wide variety of learning experiences within a Montessori approach to education.  In a Montessori atmosphere, the children are free to explore their environment and develop physically, socially, intellectually, and academically.  At the same time, the toddler classroom is one of order and consistency. The curriculum, under the direction of a trained teacher, allows the child to experience the joy of learning, the time to enjoy the process, and ensures the development of self-esteem.
Children learn in several areas, including practical life, the sensorial area, language activities, and the math, geography, and science areas.  With space for movement and learning, the toddler classroom at Orono Montessori is a warm and wonderful environment.
The program serves toddlers with a ratio of 1:7. The toddler program serves children who are between the ages sixteen months to thirty-two months, in a small and intimate group.  The program operates five days a week Monday through Friday from 7:00 a.m. to 6:00 p.m.

 
7:00
–
8:30
Free Play
8:00
Diaper Check
8:30
–
10:30
Montessori Work/Presentation/Observation
9:00
Snack/Diaper Check
10:00
Group Time/Diaper Check
10:30
–
11:30
Playtime/Outdoor
11:30
–
12:15
Cleanup/Diaper Check/Lunch
12:15
–
2:30
Nap/Diaper check
2:30
–
2:45
Snack
2:45
–
3:20
Montessori Work/Art Projects/Diaper Check
3:20
–
3:35
Pick Up
3:35
–
5:45
Free Play/Diaper Check
5:45
–
6:00
Pick Up/Closing
Orono Montessori School
850 Wayzata Boulevard West
Wayzata, MN 55391
(952) 404-0935